[podcast src="https://html5-player.libsyn.com/embed/episode/id/4743169/height/45/width/450/theme/standard/autonext/no/thumbnail/yes/autoplay/no/preload/no/no_addthis/no/direction/forward/" height="45″ width="450″]
For your church clients, it's time to be getting out Fall Festival (of many kinds) invitations to your communities and we have a whole new set for you! Many churches today do a "Fall Festival" instead of an alternative Halloween celebration. But no matter what your churches do, this is a great set of samples that you can use for both Digital Duplicators and ComColor Machines.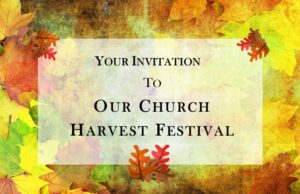 The cards, which are half of an 8 1/2 by 11 page are simple enough on one side that churches can use them without
modification and add your details on the back side. They can be used as both invitations you give out and as postcards you mail out.
Following is a gallery of the samples for you:
Following is one of my most popular ideas on how to help a church make the most of Postcards:Continue Reading