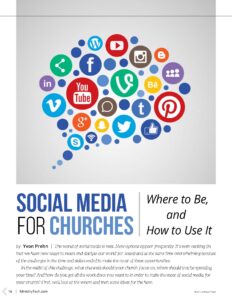 Ministry Tech Magazine just published my article on Social Media for Churches and I wanted to pass on the PDF to you, CLICK HERE or on the image to download it. One of the most valuable things about this article is the advice by Holly Veturis from Saddleback Church on putting together a team of people (advocates, she calls them) to be the primary creators of your church social media.
I heard her talk about this at the Saddleback MarCom Church Communicator's conference this summer and just loved the idea. It seemed to me that it is a fantastic modern-day example of how the Body of Christ can work together. No one in the church office has time to do all the print and website work required, PLUS all the social media that is a vital part of any church communication program today.
At the same time there are people in every church who just LOVE to be on social media. They are good at it and enthusiastic in what they share. Rather than trying to add additional burdens to the people in the church office (unless they happen to be the kind who spend every break and lunch on social media), consider following her advice and putting together a social media team.
This is a great handout to download and pass on to churches–it shows you care about the entire church communications process, not just print and helps establish you as a trusted church communications consultant.