[podcast src="https://html5-player.libsyn.com/embed/episode/id/4743169/height/45/width/450/theme/standard/autonext/no/thumbnail/yes/autoplay/no/preload/no/no_addthis/no/direction/forward/" height="45″ width="450″]
For your church clients, it's time to be getting out Fall Festival (of many kinds) invitations to your communities and we have a whole new set for you! Many churches today do a "Fall Festival" instead of an alternative Halloween celebration. But no matter what your churches do, this is a great set of samples that you can use for both Digital Duplicators and ComColor Machines.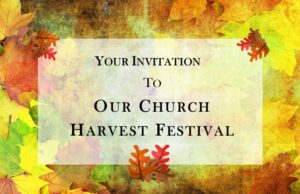 The cards, which are half of an 8 1/2 by 11 page are simple enough on one side that churches can use them without
modification and add your details on the back side. They can be used as both invitations you give out and as postcards you mail out.
Following is a gallery of the samples for you:
Following is one of my most popular ideas on how to help a church make the most of Postcards:
Best Postcard idea EVER……
Instead of paying lots of money to buy and use a mailing service to send out Postcards, do this:
Print them at your church
Put 5 Postcards/Invitations in every member's bulletin on Sunday
Have the pastor stand up during the service and say: "You can see everyone has 5 Postcards/Invitations. I want you to think, pray about who you might want to send or give these to this week. You know the best invitation is a personal one, so write a note on them if you send them. And of course please put on your own postage. We'll get a great turnout if we all do our part!"
Pray that everyone takes this challenge and responsibility seriously.
A system like the one above not only saves the church lots of time and money, but more importantly it involves the whole church in the process of inviting people to events and then following up with friends to make certain they attend. Plan on doing this for every seasonal and special event and you will develop a culture of inviting in your church.
Click on the link below to download a ZIP file that has ready-to-print PDFs of all the images above, plus editable MS Publisher Files.